With as many large green salads as I eat, sometimes it can be a struggle to keep them interesting. And when touring, it's especially hard to eat right when your tempted to dine out on the road. Salads are the last thing you'd think you could carry around with your gear, but hey, being a musician isn't just about being creative with your instrument! When I want to add a little excitement I always return to the same basic principles.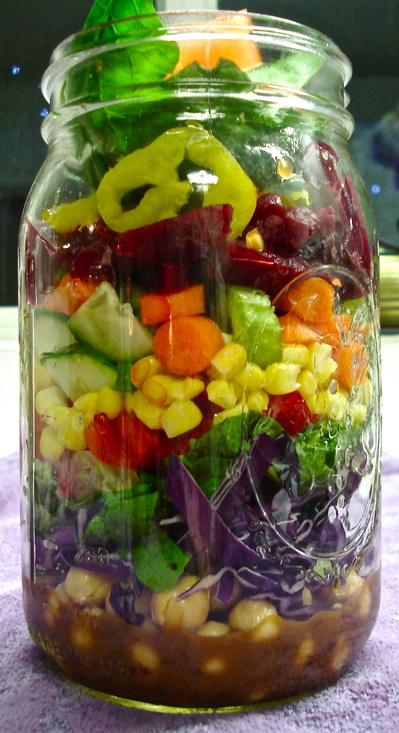 Adding more color and a few nontraditional ingredients for extra flavor always does the trick.
I often add plant protein in the form of tofu, beans, or nuts; sour ingredients like olives or mild pickled peppers; and finally something sweet like fresh strawberries, dried cherries or raisins.
To keep your washed, chopped lettuce extra fresh for an extended number of days in the refrigerator, pack it very tightly into wide-mouth glass jars. Although this site also recommends using a vacuum packing machine, I use no special equipment, and just manually stuff washed lettuce into the jar, filling with as much lettuce as will fit. I swear by this method and use it religiously.
A fun way to create a "hearty lunch that's resolution approved and a joy to eat."
To build your own beautiful salad in a jar, start by pouring your favorite salad dressing into the bottom of the jar. Then add your most sturdy ingredients like baby kale, beans, or chopped carrots. Continue to layer with colorful lettuces, other chopped vegetables, and fruits or nuts. Top your salad with the lightest or most delicate ingredients.
Then pop the finished salad into the refrigerator or an insulated bag, and your portable and very healthy lunch is ready to go.
Use any ingredients you wish in the quantities of your choosing. Just be sure to allow enough room at the top of the jar to shake your salad upside down at lunchtime.
With infinite combinations, you can easily have a different, very colorful, crisp, and healthy salad every single day. There is nothing more important than eating right when your touring, Stay Beautiful and remember you are what you eat!
Although these salad ingredients are suggestions, substitute freely with your colorful sliced, chopped, or diced favorites, layering in amounts that fill a quart-size jar.
Splash of salad dressing of your choice
Chickpeas or kidney beans
Red cabbage or baby kale
Green romaine or red leaf lettuce
Red or green pepper
Corn
Baby cucumbers or celery
Carrots
Roasted or beets or chopped tomatoes
Mild pickled peppers
Baby spinach
Olives or tofu
Chopped walnuts or almonds
Raisins or dried cranberries
Instructions
Start with a clean 1-quart-size wide-mouth glass jar with a lid.
Pour salad dressing into the bottom of the jar. Layer the most sturdy salad ingredients into your jar. Next, add layers of lettuces and other colorful vegetables of your choice. Top your salad with the lightest and most delicate ingredients. Close jar tightly with lid.
Keep jar refrigerated, or inside of an insulated bag until lunchtime.
To serve, pour the entire salad into a large bowl. Or, if preferred, simply turn jar upside down, shake vigorously until dressing is evenly distributed, and enjoy salad directly from the jar.
Important tip for salad making and eating: listen to excellent music!